Nothing is one of the most hype technology companies of 2023, and it has gone some way to justifying the clamour with its products.
The Nothing Phone (1) is proving a solid mid-range option after several software updates, and we were impressed with the company's Ear (1) and Ear (Stick) wireless earbuds.
Today, Nothing announced the Nothing Ear (2), an updated in-ear wireless earbud that replaces the Ear (1), the firm's first-ever product launched in 2021.
Here's everything you need to know about the Nothing Ear (2).
When will the Nothing Ear (2) be released?
Nothing announced the Ear (2) on 22 March 2023, and the buds are available to buy now from Nothing's website.
From 23 March you can get them from the Nothing Store in Soho, London, and also at Kith retail stores in the US, France, and Japan.
From 28 March Ear (2) will be on sale with other retailers including StockX in the US.
How much does the Nothing Ear (2) cost?
The Nothing Ear (2) costs $149/£129/.
The buds are only available in white at launch and look very similar to the Ear (1). In fact, if it weren't for the tine branding on the stalks of each bud, it's near impossible to tell they're the new pair.
In the US and Europe this is the same price as the Nothing Ear (1) but in the UK the Ear (2) is £20 less than the older model.
The Ear (1) originally cost $99/£99/€99 but Nothing had to put the price up in October 2022.
The company's Ear (Stick) open earbud costs $99/£99/€119.
$149/£129/€149 is still very competitive, undercutting Apple's AirPods Pro 2 by $100/£120 – and the Ear (2) pack in many similar features.
What features and specs does the Nothing Ear (2) have?
The Nothing Ear (2) look very similar to the Ear (1), but the company has changed a few things.
It has kept the stemmed bud design popularised by AirPods but now the controls are even more similar to AirPods, and what we saw on the Ear (Stick), with pinch controls rather than the touch ones on Ear (1).
Also new for Ear (2) is a smaller charging case, a Personal Sound Profile option to adjust EQ, Dual Connection for playback from two devices connections, and upgraded Clear Voice tech to make calls more audible.
There's also high-quality audio streaming compatibility with the LHDC codec.
Personal Sound Profile
This mode will elt you take an ear tip fit test to ensure audio quality and comfort and to make sure the active noise cancellation (ANC) is working well.
A beep test will then ask you if you can hear frequencies at different levels, creating what Nothing calls your Hearing ID.
The software in the Nothing X audio app will then use this (you can toggle it on or off) to adjust how audio sounds – hopefully better given it's trained to your ears.
Dual Connection
For the first time, you can connect a Nothing earbud product to two audio sources simultaneously. It's handy if you want to be connected to your phone and laptop at the same time and easily switch between the two for calls or video playback.
Clear Voice Technology
With three mics and an AI noise reduction algorithm, Nothing says the Ear (2) has the best audio on a Nothing earbud yet.
The mic positioning is designed to add more wind resistance and it is claimed the new buds have better Bluetooth connection thanks to a new antenna structure.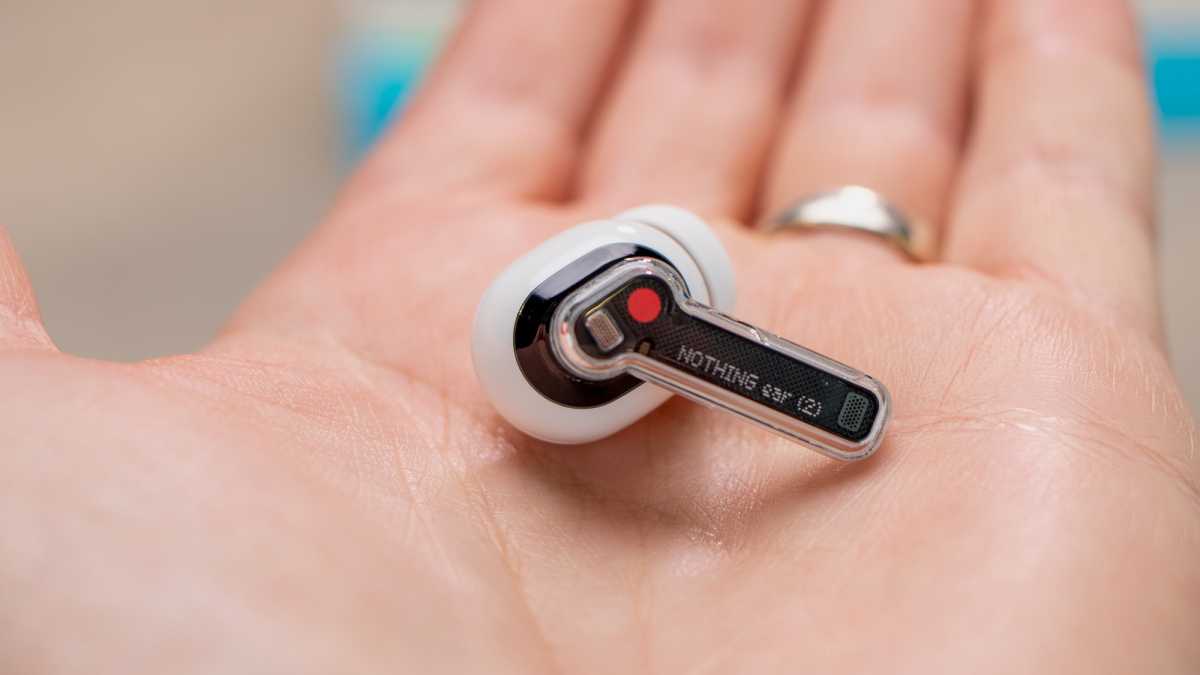 Henry Burrell / Foundry
New custom driver
Ear (2) has a redesigned 11.6mm custom driver to deliver an updated sound. Nothing says low frequencies "go even deeper". Up the bass.
There's also an advanced EQ option in the Nothing X app that is exclusive to Ear (2).
Hi-Res Audio compatible
The Ear (2) are built to playback hi-res audio at frequencies up to 24 bit/192KHz using the LHDC 5.0 codec. This is different to the LDAC codec seen in other hi-res earbuds such as the Sony WF-100XM4.
Nothing says that when turned on, the mode should detect when the audio source is hi-res and playback accordingly. We'll find out in our review soon.
Personalised ANC
With ANC, Nothing Ear (2) lets you pick between three levels or an Adaptive mode that takes in the ambient noise around you to choose how much sound it should let in or block out.
There's also a now-familiar transparency mode that lets all sounds in so you can talk to others and hear sounds even with the silicon-tipped buds in your ears.
Battery life and water resistance
Nothing states with a fully charged set of buds and case you'll get 36 hours of playback without ANC on. This breaks down to 6 hours of use without ANC on for the buds at a time. A fast charge can add eight hours of playback time from 10 minutes plugged in, allegedly.
The Ear (2) is IP54 rated for dust and water resistance, which equates to sweat from workouts, light rain, and not much else. Keep 'em dry.
We'll have a full review of the Nothing Ear (2) in the coming days. In the meantime, check out our roundups of the best wireless earbuds and best budget wireless earbuds to see the best alternatives that are currently on the market.